Winner: Vincent Routhier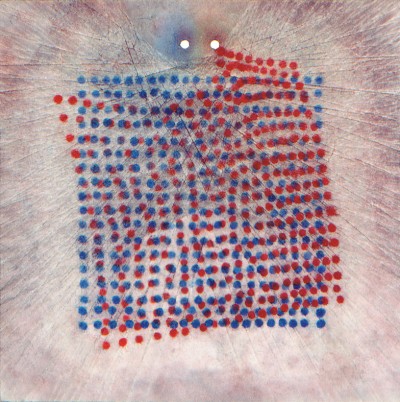 2 images de x, 2016, pigments sur papier, 200 x 200 cm
Montréal, May 25, 2016 – The Sylvie and Simon Blais Foundation is pleased to announce the name of the recipient of the 2016 Sylvie and Simon Blais Award for Emerging Visual Artists, Vincent Routhier, who is pursuing an MFA degree with a concentration in Intermedia/Cyberarts at Concordia University. The Foundation would also like to mention the names of the two other finalists for this eighth consecutive edition of the Award, Chloë Charce and Ivetta Sunyoung Kang (both also from Concordia), as well as point out the excellent quality of all the work and proposed exhibition projects in support of the applications submitted, which only made the jury's deliberations that more difficult.
Vincent Routhier, a conceptual artist whose multidisciplinary practice finds its bases in philosophical thinking and a science-based approach, examines the possible complementarity of art and science. Considering translation a creative act, Routhier develops systems that find expression in large geometric drawings, mathematical formulas, and contextual performances. Taking mathematical concepts—the Pythagorean theorem, duplication of the square, or homothety (geometric transformation)—as his starting point, this artist creates drawings using graphite powder.  
Jury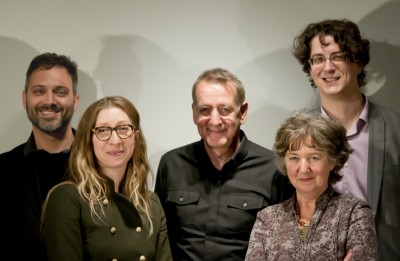 Benjamin Klein, Marie-Eve Beaupré, Rémi Bédard, Catherine Farish, Martin Blais
The members of the jury—Marie-Eve Beaupré, curator of the Collection at the Musée d'art contemporain de Montréal, Rémi Bédard, owner of Encadrex and collector, Catherine Farish, artist, Benjamin Klein, artist, writer and independent curator, and Martin Blais, journalist and representative of the Blais family for the Sylvie and Simon Blais Foundation—met to select the recipient of the Award on May 16. An exhibition of works by Vincent Routhier will be held at Galerie Simon Blais in August 2016.