Winner: Marie-Eve Beaulieu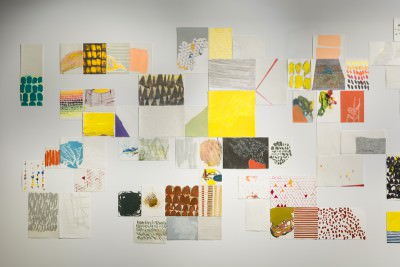 Je t'écris une tache, écris-moi une image, 2013, mixed media on Somerset paper
The Sylvie and Simon Blais Foundation is pleased to announce the name of the recipient of the 2013 Sylvie and Simon Blais Award for Emerging Visual Artists, Marie-Eve Beaulieu, a student in the Université du Québec à Montréal's master's degree program in Visual and Media Arts. The Foundation would also like to mention the names of the three other finalists for this fifth consecutive edition of the Award, Andréanne Godin (from Concordia University), Philippe Léonard (from Concordia University) and Françoise Ségard (from UQÀM), as well as point out the excellent quality of all the work and proposed exhibition projects in support of the twenty applications submitted, which only made the jury's deliberations that more difficult.
The work of Marie-Eve Beaulieu is rooted in the notion of process. At the fore of her painting is a focus on the action that is the repetition of gesture. It is entirely based on the performance of the gesture, as if the body making it had left the mark of its presence on the succession of works. Through a profusion of repeated actions, this artist creates a kind of writing, like leaving a remark or a message behind. By alternating very clear gesture with effacement, she questions the relationship between what is said and what is left unsaid—and what is incommunicable.
Jury
The members of the jury—Diane Charbonneau, Curator of Contemporary Decorative Arts at the Montreal Museum of Fine Arts, Marie-Eve Charron, journalist at Le Devoir, Guy Rodrigue, collector, Irene F. Whittome, artist, and Simon Blais, President of the Sylvie and Simon Blais Foundation—met to select the recipient of the Award on April 18. An exhibition of works by Marie-Eve Beaulieu will be held at Galerie Simon Blais in January 2014.