Winner: Isabelle Guimond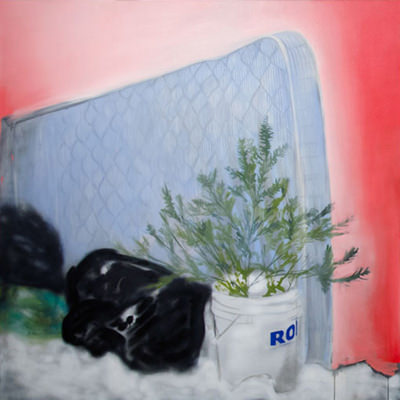 Un jour mon prince viendra, et moi aussi,
2013, oil and aerosol on canvas, 152 x 152 cm
The Sylvie and Simon Blais Foundation is pleased to announce the name of the recipient of the 2014 Sylvie and Simon Blais Award for Emerging Visual Artists, Isabelle Guimond, a student in the Université du Québec à Montréal's master's degree program in Visual and Media Arts. The Foundation would also like to mention the names of the two other finalists for this sixth consecutive edition of the Award, Noémie Weinstein (from UQÀM), who came in second, and Philippe Chabot (also from UQÀM), who came in third, as well as point out the excellent quality of all the work and proposed exhibition projects in support of the applications submitted, which only made the jury's deliberations that more difficult.
Above all a painter, Isabelle Guimond uses photography as a starting point and a source of inspiration for recording scenes from her everyday life and environment. As she has written, "My work consists of a constant back-and-forth between the street and the studio, between capturing an image through photography and then removing it through the act of painting, between the need to describe the world I live in and the contingencies inherent to working with whatever medium I am using." She is an artist who shines a spotlight on familiar popular culture by bringing us face to face with the reality of the Montréal neighbourhood in which she lives, Hochelaga—a disadvantaged, sometimes violent area, where there nonetheless still remains a chance to dream and a feeling that something unexpected could happen at any moment. With her garish colours, Isabelle Guimond shifts between a hard look at our way of life and an intimate narrative that is close to fictionalized autobiography.
Jury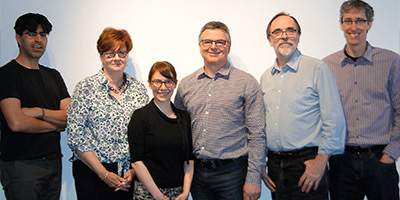 Jérôme Delgado, Sylvie Cataford-Blais, Ève Dorais, Simon Blais, Serge Clément and Jacques Bélanger
The members of the jury—Jacques Bélanger, collector, Serge Clément, artist, Jérôme Delgado, journalist at Le Devoir, Eve Dorais, art historian and independent curator, and Simon Blais, President of the Sylvie and Simon Blais Foundation—met to select the recipient of the Award on May 12. An exhibition of works by Isabelle Guimond will be held at Galerie Simon Blais in August 2014.