Winner: Stéphane Dionne

Assembler
, 2010, installation video HD, dimensions variables
Stéphane Dionne's video paintings incorporate static shots of movement. The artist describes his approach in these terms: "The body becomes an object divested of any sonic expression. The only language giving an indication of a particular individual's personality is that provided by the movement of the body within a confined space. In this way the video is a subjective interpretation and expression of its very subject. Through fiction, I construct a critical look at what drives individuals to come into contact with others and, at the same time, become estranged from them." Stéphane Dionne was born in Montréal in 1975. He is currently enrolled in a master's degree program in visual and media arts at the Université du Québec à Montréal. In the past ten years, video has become his preferred medium, which he uses in various single-band, documentary or installation formats. His work has been shown at a number of different art events in Québec and will be the feature of a solo exhibition to be held next October at the Maison de la culture du Plateau-Mont-Royal.
Jury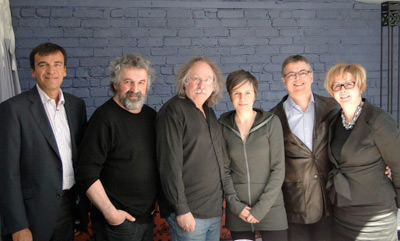 From left to right : Daniel Limoges, Gilles Daigneault, Michel Goulet, Anne-Marie Ninacs, Simon Blais, Sylvie Cataford
The members of the jury, Gilles Daigneault, curator, art critic and art historian, Anne-Marie Ninacs, art historian and curator, Daniel Limoges, Managing Director at BMO Nesbitt Burns and collector, Michel Goulet, sculptor and Simon Blais, met to select the recipient of the award on April 29.