Winner: Eugene Park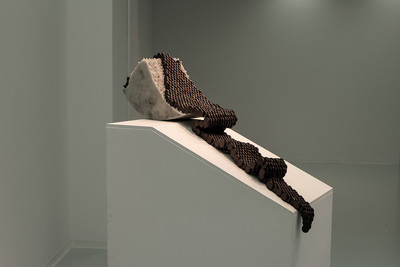 Dropping, Falling, Rubbing, 2017, mixed media, 15x70x25cm
The Sylvie and Simon Blais Foundation (FSSB) is pleased to announce the name of the recipient of the 2018 Sylvie and Simon Blais Award for Emerging Visual Artists, Eugene Park, who is pursuing an MFA degree with a concentration in Sculpture and Ceramics at Concordia University. The Foundation would also like to mention the names of the two other finalists for this tenth consecutive edition of the Award, Marko Tonich (Université Laval) and Isabelle Duchesne (UQAC), as well as point out the excellent quality of all the work and proposed exhibition projects in support of the applications submitted.
Eugene Park creates installations using unconventional materials, letting their inherent powers permeate a space. By focusing on objects and their behaviours, she hopes to reveal the stories of those objects, which are not yet "living." Eugene Park's work has been shown in both Seoul and Montréal, and will be featured in an exhibition to be held at Galerie Simon Blais in August 2018.
Jury
In order to select the recipient of the 10th FSSB Award, this year the Foundation's board of directors decided to put together a jury representing those expected to continue the work of the organization in the future, that is, members of the Cataford-Blais family. The jury was therefore made up of Gabriel-Jacques Blais, Martin Blais, Sylvie Cataford and Simon Blais, who were unanimous in their choice of the recipient of the 2018 Award and the two noteworthy finalists.