Winner: Janie Julien-Fort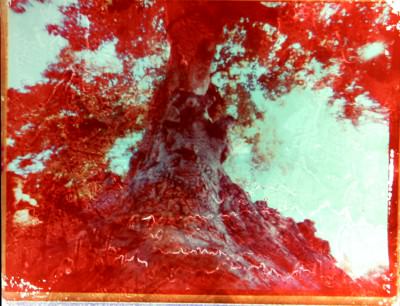 Arbre, 2011, chromogenic print, 20 x 25,5 cm
The Sylvie and Simon Blais Foundation is pleased to announce the name of the recipient of the 2012 Sylvie and Simon Blais Award for Emerging Visual Artists, Janie Julien-Fort, a student in the Université du Québec à Montréal's master's degree program in Visual and Media Arts. The Foundation would also like to mention the names of the two other finalists for this fourth consecutive edition of the Award, Virginie Mercure (from Université Laval) and Karine Payette (from UQÀM), as well as point out the excellent quality of all the work and proposed exhibition projects in support of the twenty-one applications submitted, which only made the jury's deliberations that more difficult.
In an age dominated by "perfect," reworked digital images, the work of Janie Julien-Fort may seem something like an anachronism. Fascinated by photosensitive media, she reappropriates obsolete techniques like Polaroid transfer, pinhole photography and the photogram, making use of all the possible "accidents" analogue photographic processes allow. The traces left behind on the surface of the film or paper not only reveal the very nature of the medium, but also reflect the degeneration of the body, the obliteration of our memories and, even more simply, the passage of time.
Jury

Louise Déry, Georges Curzi, Louise Robert, Sylvie Cataford, Simon Blais and Bernard Lamarche
The members of the jury—Louise Déry, Director of the UQÀM Gallery, Georges Curzi, collector, Bernard Lamarche, Curator of Contemporary Art at the Musée national des beaux-arts du Québec, Louise Robert, painter, and Simon Blais, President of the Sylvie and Simon Blais Foundation—met to select the recipient of the Award on April 26. An exhibition of works by Janie Julien-Fort will be held at Galerie Simon Blais in the winter of 2012–2013.