Mission
The mission of the Sylvie and Simon Blais Foundation is to promote contemporary culture by developing programs that will bring new artistic practices to the attention of the general public.
News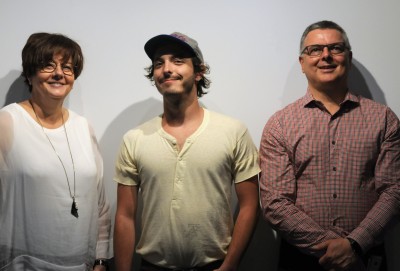 Sylvie Cataford-Blais, Jean-Michel Leclerc, Simon Blais
The Sylvie and Simon Blais Foundation is pleased to announce the name of the recipient of the 2017 Sylvie and Simon Blais Award for Emerging Visual Artists, Jean-Michel Leclerc, who is pursuing an MFA degree with a concentration in Fine Arts (Print Media) at Concordia University. The Foundation would also like to mention the names of the two other finalists for this ninth consecutive edition of the Award, Guillaume Lépine (UQAM) and JJ Levine (Concordia), as well as point out the excellent quality of all the work and proposed exhibition projects in support of the applications submitted, which only made the jury's deliberations that more difficult.